How does learning about the future of the ocean impact children's emotional wellbeing?
This question is posed by Linda Murray and her co-authors in new research published in the British Ecological Society's People and Nature magazine. It follows an extensive study of children's emotional response to spending time near or in the ocean in Aotearoa New Zealand. 
The study investigates how children are responding to the "triple planetary crisis" of pollution, biodiversity loss, and climate change. Do children still respond positively to blue spaces amidst 21st-century environmental challenges?
The study authors investigated how ocean literacy educators in Aotearoa New Zealand view the effect of their lessons on the emotional wellbeing of young people. A number of educators were consulted across the motu, including Friends of Taputeranga Marine Reserve – we were interviewed as part of the study and shared insights using our 360° virtual dive tour. 
There is more than 40 years' worth of research on people's connection to nature, but little of it addresses climate grief or anxiety. Sadly, as children grow up they will most likely witness some biodiversity loss and degradation in their local blue spaces.
The study found that young people feel a strong connection to the ocean as part of literacy education and this boosts their emotional wellbeing. However, children can become distressed if they learn negative information about the environment. To manage this, educators generally focus on the positives to stimulate joy and wonder, while also offering clear guidance on action to help protect the ocean and its marine life.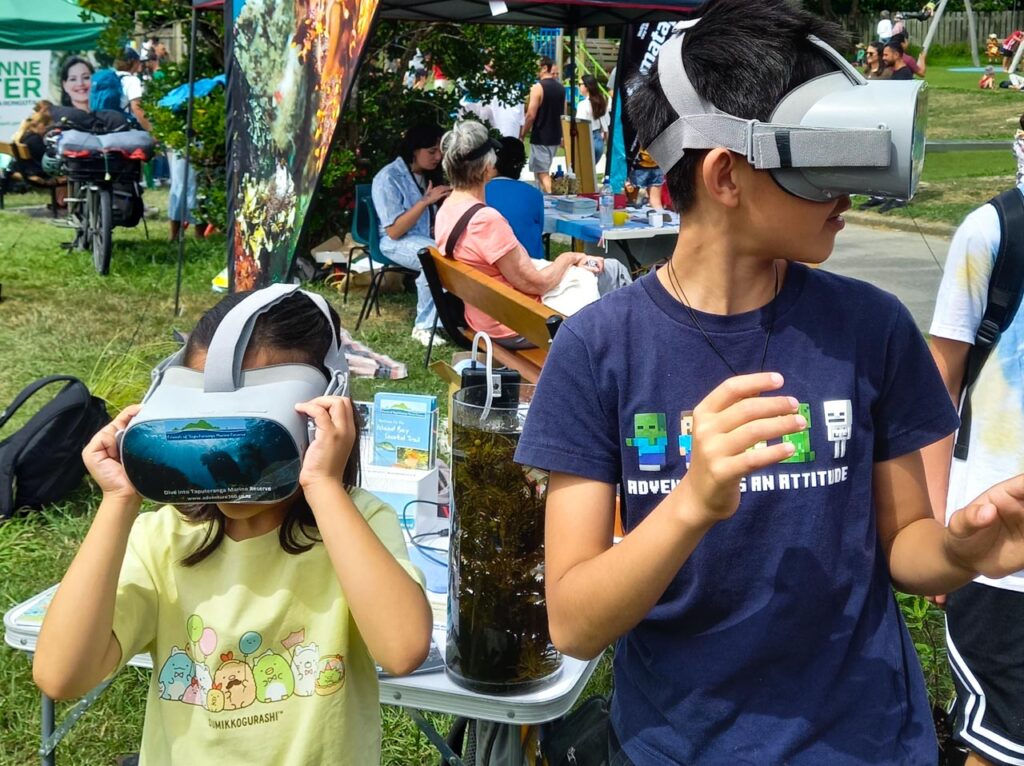 The study's authors recommend that young people are supported to take action with adults working in solidarity alongside them (sounds familiar!). They also recommend further research into how educators can be resourced to acknowledge and facilitate support around young people's negative emotional responses (such as grief, feeling overwhelmed and anxiety) when it comes to human impacts on the moana.

For more information, read the full article on the British Ecological Society Journals website or the Plain English Summary on the People and Nature blog.
Experiencing thriving marine life in Taputeranga Marine Reserve – virtually or through school and community events – is exciting and shows that if we come together to protect the marine environment, we can create a positive change! Marine reserves make up less than 1% of our marine space. To turn the tide for better outcomes the United Nations has set a goal of 30% protection of our oceans by 2030. Let's show we can be good ancestors and leave a more resilient and healthier ocean for future generations.
Blog and photos by Shona Riddell and Nicole Miller