Explore Taputeranga Marine Reserve virtually
Walk along the marine reserve and take a look underwater or explore the marine life of Taputeranga Marine Reserve from your computer by taking a virtual dive…. 
Discover what lies below the surface – take the Marine Reserve Video Tour
Find out what lies under the waves of Taputeranga Marine Reserve by scanning the QR codes at each site along our self-guided marine reserve video tour.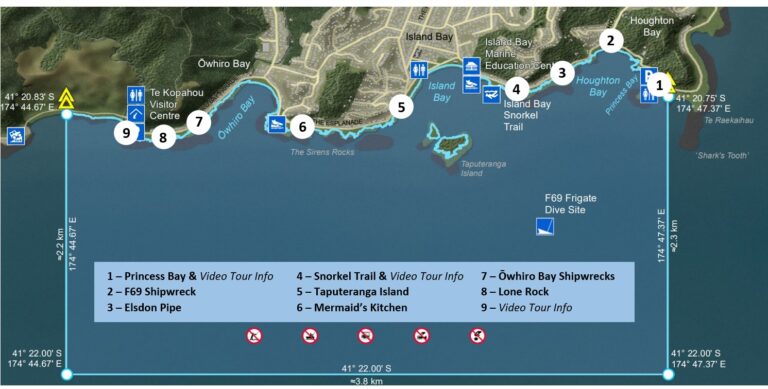 You can also watch the short videos on our YouTube channel. Read more about the video tour in this blog.
Take a plunge into the dark and join divers on a night dive at Princess Bay in Taputeranga Marine Reserve. Watch the video here.
Take a dive through the channels at the back of Taputeranga Island and immerse yourself in a large school of blue moki. Watch the video here.
Scuba divers set out from the Island Bay Snorkel Trail to dive the F69 shipwreck (HMNZS Wellington), a Leander-class frigate scuttled in 2005. The shipwreck lies approx. 400m from shore in 21m. Watch the video here.
Dive with kingfish, a large school of blue moki and discover the marine life large and small at Elsdon Pipe in Taputeranga Marine Reserve. Watch the video here.
Have a look under the waves at the Snorkel Trail and see what you can find underwater in Taputeranga Marine Reserve so close to Wellington's South Coast suburb Island Bay. Watch the video here.
Join the divers from the Wellington Underwater Club on a dive in Mermaid's Kitchen! Watch the video here.
Octopus, blue cod, blue moki and more… Discover the Yung Pen shipwreck and the marine life of Ōwhiro Bay! Watch the video here.
Immersive 360 Tour of Taputeranga Marine Reserve
Fully immerse yourself in the marine reserve and experience a dive without getting wet! Our 360 tour is so close to the real dive experience that it even featured in the official selection of the Documentary Edge Film Festival 2022.  Find out more about the 360 tour of Taputeranga Marine Reserve here. Sign up to the Trust's newsletter to hear about upcoming events that feature the 360 tour.